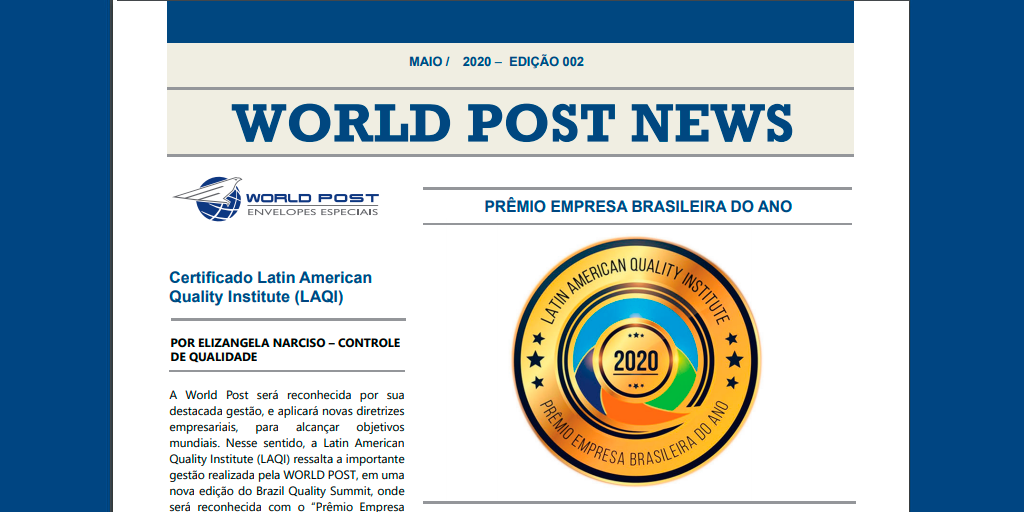 In the second edition of our World Post newspaper, we highlight our award from the new edition of the Brazil Quality Summit, in which we will be recognized with the "Brazilian Company of the Year 2020 Award".
In this context, we will develop our "2020 Challenge: Commitment to Excellence, Total Quality, Social Impact and Compliance, in line with the SDGs". This challenge consists of an improvement on the part of companies, for a better world by 2030. It contains 17 Sustainable Development Goals (SDGs) promoted by the UN.
We care about the world and our employees, so due to COVID-19, we continue to emphasize the importance of continuous mask use, to prevent the virus from spreading easily.
Thinking about it, we deliver the protection kit, containing hygiene and cleaning instructions for masks, term of use and 04 units of three-layer washable fabric protective masks.
Still thinking about the well-being of our employees, we made a special article about arterial hypertension, it is a silent problem that we must be aware of.
If it is not detected, it can cause problems such as strokes, heart disease, kidney failure and vision change.
As it is a silent disease, it is possible to detect its presence by measuring blood pressure regularly and recording its values. Some symptoms attributed to increased pressure are headaches, tiredness, dizziness, nosebleeds, among others, but these may not be associated with high blood pressure.
And since we can't leave it aside, of course there's a tribute to all mothers on their special day!
Every day women are guaranteeing their place in the market, so many women have assumed two roles, as an employee and as a mother.
With that in mind, we list the rights guaranteed by law to protect them during pregnancy and after maternity leave.
Among them are Temporary Stability, Breastfeeding, Daycare Assistance, Family Salary, Paid absences when accompanying children to appointments, Rest due to spontaneous abortion.
We want to thank all the mothers who collaborate with us every day! We are very happy with everyone's commitment and dedication!
We wish you a Happy Mother's Day!
Read our newspaper at the link below
Click Here