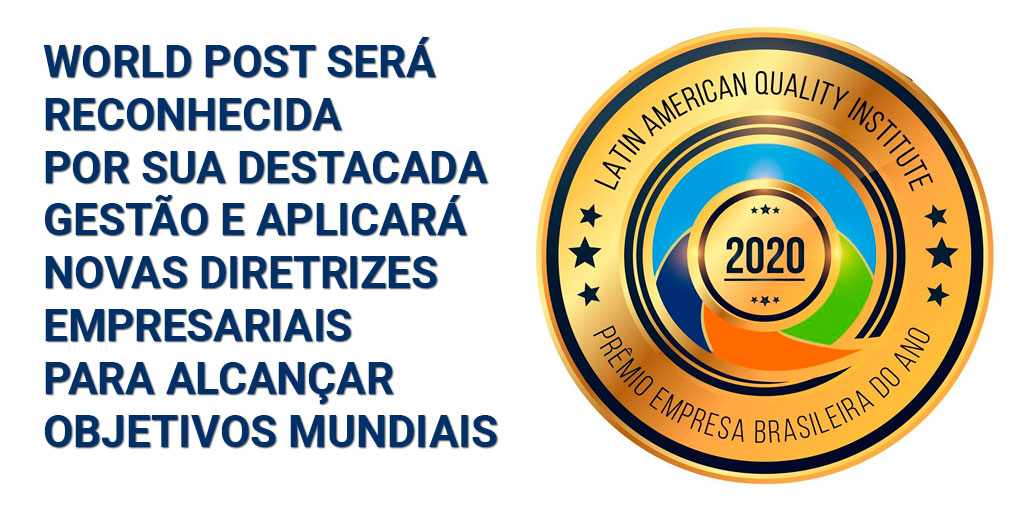 Today, we observe and admire companies that are aware of the role they play in the business world and also of the responsibility they support in generating opportunities for the development of a healthy and ethical society. WORLD POST, in addition to carrying out actions that seek to reinforce quality in each of its processes and interest groups, continues to align and update itself with new global business trends.
In this sense, the Latin American Quality Institute (LAQI) highlights the important management carried out by WORLD POST, in a new edition of the Brazil Quality Summit, where it will be recognized with the "Brazilian Company of the Year 2020 Award", for its outstanding business activity and for commitment to conform to our LAEM Model of Excellence.
In this context, we will develop our "2020 Challenge: Commitment to Excellence, Total Quality, Social Impact and Compliance, aligned with the SDGs", a challenge that will set the agenda for companies to seek a better world by 2030, triggering their management 17 Sustainable Development Goals (SDGs) promoted by the UN.
"Currently, to reach the level of Total Business Quality, companies must establish triple impact objectives (Economic-social-environmental). With this premise, we will enable each business leader in our network to apply responsible management that impacts on society and contributes, at the same time, to reach the global objective proposed by the UN for 2030", emphasizes LAQI CEO & Founder, Daniel Maximilian da Costa, DHC.
This recognition will be held in front of important national business leaders, at the sumptuous Maksoud Plaza, in the city of São Paulo, next July 2nd. With this business summit, we seek the interrelationship between the participating leaders so that they are examples of success in their country, amplify and solidify this responsible vision to their stakeholders, and that they also align themselves on the path to Total Quality.
About Latin American Quality Institute
The Latin American Quality Institute (LAQI) is a private non-profit organization, founded in Panama in 2007 with the aim of empowering the Latin American business community for Total Quality, providing business intelligence through its Model of Excellence – LAEM, which is in line with new global corporate trends.
LAQI supports the initiatives of the Global Compact, PRME, Caring for Climate, Women's Empowerment Principles, Green Industry Platform and participates in world congresses held by the United Nations (UN); establishes Strategic Alliances with organizations from the five continents that promote Quality, Sustainability and Social Responsibility criteria, in order to amplify the commitment to make a responsible business world.
Furthermore, it constantly trains its business network of more than 3200 companies through 10 annual business summits, setting new Challenges for leaders in the region. Likewise, LAQI produces its leading quality and responsible business magazine, the "Quality Magazine", monthly, and produces Research Reports with contributions from leading Latin American experts.
See the certificate below