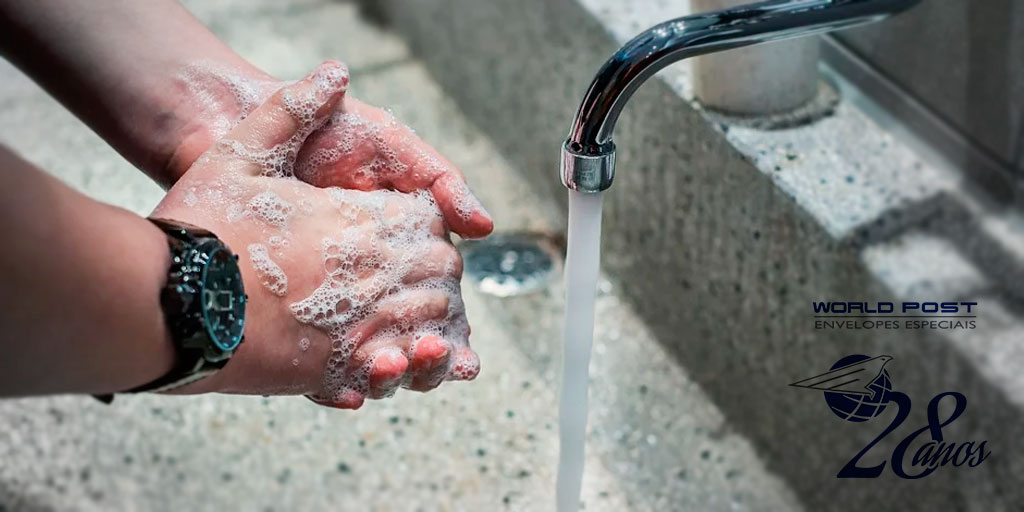 Let's overcome this crisis together
There is a lot of uncertainty about the severity of the spread of the new coronavirus around the world. At this point, companies have enormous responsibility and can take important measures, either to help fight the spread of the virus or to share credible information.
World Post, thinking about the well-being and health of its employees, follows the recommendations of reference bodies, such as the Ministry of Health, the São Paulo State Health Department, the World Health Organization (WHO) and the Center for Control and Disease Prevention (CDC) USA.
In this context, we create, through our department of occupational medicine, integrated health actions:
1.HEALTHY GUIDELINES
The most important measures to contain the coronavirus are frequent hand hygiene and care when coughing and sneezing. In this way, we create health actions "in loco" guiding employees in the correct hand hygiene and in the training carried out at work stations individually in order to answer questions and provide health guidelines.
In the same way and as a primary action, WP installed a washbasin at strategic points so that every employee performs hand hygiene before accessing the production areas.
All employees have gel alcohol for hand antisepsis at their work stations and at strategic points. And they are oriented in the correct way to use after cleaning with soap and water.
2.CARING FOR EMPLOYEES
Every day, even before entering the productive and administrative areas, the occupational medicine team performs the measurement of the employees' body temperature.
Each and every employee who shows symptoms of COVID-19 undergo a thorough screening, with verification of signs, symptoms and a detailed physical examination and are referred to the health service with a pre-care protocol.
3.REDUCTION OF IMPACTS
Daily, the occupational medicine department interacts with its employees, explaining what attitudes can be adopted to mitigate the effects of this epidemic, reassuring each employee and strengthening the support and welcoming relationships for them.
4.DEDICATED HYGIENE AND CLEANING TEAM
Thinking exactly about the maintenance and health care of our employees. In addition to the properly trained hygiene and cleaning team, we maintain a team dedicated to the so-called cleaning and disinfection support.
This team received training with the Sanitary Surveillance regulations for the hygiene of areas of biggest contact such as door handles, tables, turnstiles, time clocks, drinking fountains and similar areas that need reinforced hygiene so that we can protect and maintain health.
5.BIO SANITIZATION IN ALL DEPENDENCIES OF THE WORLD POST COMPANY
On 03.22.2020 the company Dr. Ácaro®, through the SPA Method, performed the Bio Sanitization service, a reference in Deep Hygienisation. Developed by Grupo SPA, the method used by Dr. Ácaro® is able to provide healthier environments. This method was created to ensure total hygiene of your home or business environments, eliminating and protecting against the proliferation of mites, fungi and bacteria causing allergies and respiratory problems for up to 90 days. Cold sanitization is possible due to the use of high-tech equipment that makes a nebulization, launching microparticles of the Microbac® bio sanitizer (from the manufacturer Aya Tech), produced via nanotechnology. Microbac®, registered with ANVISA nº 340670054001-7, has proven efficacy against: Trichophyton mentagrophytes, Staphylococcus aureus (bacteria that cause nosocomial infections, foodborne infections, nasopharyngitis, gastroenteritis, endocarditis, bacteremia, meningitis, myocarditis, pneumonia), Samonella choleraesuis (bacteria causing systemic infections, typhoid fever, gastroenteritis), among others. It is also efficient against H1N1/Influenza virus and even COVID-19.
ANA PAULA BISMARCHI
WORLDPOST OCCUPATIONAL HEALTH COORDINATOR
COREN-SP: 115,564 /SP MTE: 84,432